Selamat pagi, siang, sore, dan malam di mana pun teman-teman berada. Kali ini saya hadir dengan menelurkan sebuah postingan mengenai teks story telling pendek berbahasa Inggris. Teks tersebut saya ambil dari berbagai sumber dengan sedikit revisi (terutama bagian terjemahan yang awalnya kurang memuaskan). Di bawah ini terdapat 19 dongeng bahasa inggris  pendek dan terjemahannya dengan nilai moral. Semoga membantu, ya!
Pakaian, novel, dan tas baru + second murah meriah hanya di http://carousell.com/pontianaknewpreloved
#1. The Goose With The Golden Egg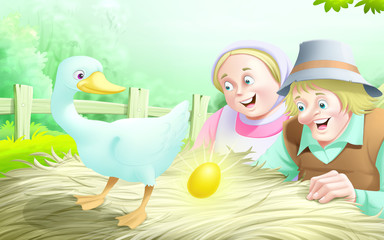 Once upon a time, a man and his wife had the good fortune to have a goose which laid a golden egg every day. Lucky though they were, they soon began to think they were not getting rich fast enough.
They imagined that if the goose must be able to lay golden eggs, its insides must be made of gold. And they thought that if they could get all that precious metal at once, they would get mighty rich very soon. So, the man and his wife decided to kill the bird.
However, upon cutting the goose open, they were shocked to find that its innards were like that of any other goose!
MORAL: THINK BEFORE YOU ACT.
TERJEMAHAN:
Pada suatu masa, seorang pria dan istrinya mendapat keberuntungan karena memiliki angsa yang dapat menetaskan telur emas setiap hari. Meskipun mereka beruntung, mereka mulai berpikir bahwa mereka tidak akan cepat menjadi kaya.
Mereka berpikir bahwa jika angsa tersebut mampu mengeluarkan telur emas, bagian dalam angsa itu pasti terbuat dari emas. Mereka berpikir bahwa jika mereka bisa mendapatkan semua  logam mulia sekaligus, mereka akan segera kaya. Jadi, sang pria dan istrinya memutuskan untuk membunuh angsa tersebut.
Akan tetapi, setelah memotong angsa tersebut, mereka sangat terkejut karena mendapati organ angsa tersebut sama saja dengan angsa lainnya!
MORAL: BERPIKIR SEBELUM BERTINDAK
#2. The Ant and the Dove
One hot day, an ant was searching for some water. After walking around for some time, she came to a spring. To reach the spring, she had to climb up a blade of grass. While making her way up, she slipped and fell into the water.
She could have drowned if a dove up a nearby tree had not seen her. Seeing that the ant was in trouble, the dove quickly plucked off a leaf and dropped it into the water near the struggling ant. The ant moved towards the leaf and climbed up there. Soon it carried her safely to dry ground. Just at that time, a hunter nearby was throwing out his net towards the dove, hoping to trap it.
Guessing what he was about to do, the ant quickly bit him on the heel. Feeling the pain, the hunter dropped his net. The dove was quick to fly away to safety.
MORAL: HELP EACH OTHER.
TERJEMAHAN:
Suatu hari yang panas, ada seekor semut yang sedang mencari air. Setelah berkeliling cukup lama, dia sampai ke sebuah mata air. Untuk mencapai mata air tersebut, dia harus memanjat rumput. Saat mencoba membuat jalan, dia terpeleset dan jatuh ke dalam air.
Dia bisa saja tenggelam jika burung merpati di atas pohon di dekatnya tidak melihatnya. Melihat bahwa semut dalam kesulitan, burung merpati dengan cepat memetik daun dan menjatuhkannya ke dalam air di dekat semut yang sedang berjuang. Semut pun naik ke atas daun. Dengan segera, daun tersebut membawanya ke tanah kering yang aman. Di saat yang bersamaan, seorang pemburu di dekatnya sedang melempar jaring ke arah burung merpati, ingin memerangkapnya.
Semut memperkirakan apa yang akan sang pemburu lakukan, lalu dengan cepat menggigit tumit sang pemburu. Merasa sakit, pemburu tersebut menjatuhkan jaringnya. Merpati pun terbang ke tempat yang aman.
MORAL: MEMBANTULAH SATU SAMA LAIN.
#3. The Ant and The Grasshopper
In a field one summer's day a Grasshopper was hopping about, chirping and singing to its heart's content. An Ant passed by, bearing along with great effort an ear of corn he was taking to the nest.
"Why not come and chat with me?" ask the Grasshopper.
"I am helping to lay up food for the winter," said the Ant, "and recommend you to do the same."
"Why bother about winter?" asked the Grasshopper. "We have got plenty of food at present," the Grasshopper continued.
But the Ant went on its way and continued its toil. When the winter came the Grasshopper found itself dying of hunger, while it saw the ants distributing, every day, corn and grain from the stores they had collected in the summer.
Then the Grasshopper understood.
MORAL: WORK TODAY AND YOU CAN REAP THE BENEFITS TOMORROW!
TERJEMAHAN:
Di sebuah ladang pada musim panas, seekor belalang melompat-lompat, bersandar dan bernyanyi dalam hati. Seekor semut berlalu di depannya, mengerahkan seluruh kemampuan untuk membawa sebuah jagung ke sarangnya.
"Kenapa tidak datang dan ngobrol saja denganku?" tanya seekor belalang.
"Saya sedang membantu menyimpan makanan untuk musim dingin", kata semut, "dan menyarankanmu untuk melakukan hal yang sama."
"Mengapa khawatir dengan musim dingin?" tanya belalang. "Kita punya banyak makanan sekarang," lanjutnya.
Tetapi semut berlalu begitu saja dan melanjutkan pekerjaannya. Saat musim dingin tiba, belalang hampir mati kelaparan. Saat melihat semut yang membawa jagung dan biji-biji mereka yang telah dikumpulkan di musim panas, belalang pun mengerti.
MORAL : BERSUSAH PAYAHLAH HARI INI DAN KAU AKAN MENDAPAT KEUNTUNGANNYA BESOK!
#4. The Fox and The Grape
One afternoon a fox was walking through the forest and spotted a bunch of grapes hanging from over a lofty branch. "Just the thing to quench my thirst," quoted the fox.
Taking a few steps back, the fox jumped and just missed the hanging grapes. Again the fox took a few paces back and tried to reach them but still failed.
Finally, giving up, the fox said, "They're probably sour anyway," and proceeded to walk away.
MORAL: IT'S EASY TO DESPISE WHAT YOU CANNOT HAVE.
TERJEMAHAN:
Suatu sore seekor rubah sedang berjalan melalui hutan dan melihat sekumpulan anggur yang menggantung dari cabang tinggi. "Hanya untuk memuaskan rasa hausku," ucap rubah.
Ia mengambil beberapa langkah ke belakang, lalu melompat dan gagal bergantung pada anggur. Lagi, rubah mengambil beberapa langkah ke belekang dan mencoba untuk mencapai mereka namun masih gagal.
Singkat cerita, ia menyerah. Rubah mengatakan, "mereka mungkin asam ," dan terus berjalan pergi.
MORAL: SANGAT MUDAH UNTUK MEMBENCI APA YANG TIDAK ANDA MILIKI.
#5. The Lion and the Mouse
Once when a lion, the king of the jungle, was asleep, a little mouse began running up and down on him. This soon awakened the lion, who placed his huge paw on the mouse, and opened his big jaws to swallow him.
"Pardon, O King!" cried the little Mouse, "Forgive me this time. I shall never repeat it and I shall never forget your kindness. And who knows, I may be able to do you a good turn one of these days!"
The Lion was so tickled by the idea of the mouse being able to help him that he lifted his paw and let him go.
Sometime later, a few hunters captured the lion, and tied him to a tree. After that they went in search of a wagon, to take him to the zoo.
Just then the little mouse happened to pass by. On seeing the lion's plight, he ran up to him and gnawed away the ropes that bound him, the king of the jungle.
"Was I not right?" said the little mouse, very happy to help the lion.
MORAL: DO RIGHTS, YOU WILL GET GOOD RESULTS
TERJEMAHAN:
Ketika singa, sang raja hutan, sedang tidur, tikus kecil mulai berjalan naik dan turun di tubuhnya. Singa segera terbangun dan menempatkan tangannya di dekat tikus, lalu membuka rahangnya yang besar untuk menelan tubuh tikus.
"Ampun, tuanku raja!" seru tikus kecil, "Maafkan saya kali ini. Saya tidak akan mengulangi hal ini dan saya tidak pernah lupa kebaikan Anda. Siapa tahu, saya bisa melakukan hal baik untuk Anda!"
Singa ini jadi menggelitik oleh gagasan tikus yang mampu membantu dia bahwa ia mengangkat tangan dan membiarkannya pergi.
Beberapa waktu kemudian, beberapa pemburu menangkap singa dan mengikatnya ke sebuah pohon. Setelah itu mereka pergi mencari sebuah gerobak untuk membawanya ke kebun binatang.
Singkat cerita, tikus kecil kebetulan lewat. Melihat penderitaan sang singa, ia berlari kepadanya dan menggerogoti tali yang diikatkan ke sang raja hutan.
"Apakah saya tidak benar?" kata tikus kecil, dengan senang hati membantu singa.
MORAL: BERBUATLAH HAL YANG BAIK, KAU AKAN MENDAPATKAN HASIL YANG BAIK PULA
#6. The Cows and The Lion
There was a village near a jungle. The village cows used to go up to the jungle in search of food. In the forest there lived a wicked lion. He used to kill a cow now and then and eat her. This was happening for quite sometime. The cows were frightened.
One day, all the cows held a meeting. An old cow said, "Listen everybody, the lion eats one of us only because we go into the jungle separately. From now on we will all be together." From then on all the cows went into the jungle in a herd. When they heard or saw the lion all of them unitedly moo and chased him away.
MORAL: TOGETHER, PROBLEM WILL BE SOLVED.
TERJEMAHAN:
Ada sebuah desa dekat hutan. Sapi pedesaan yang pergi ke hutan untuk mencari makanan. Di hutan hiduplah singa jahat. Ia ingin membunuh sapi dan memakannya. Hal ini terjadi sangat sering sehingga sapi  ketakutan.
Suatu hari, semua sapi mengadakan pertemuan. Sapi tua berkata, "dengar semuanya, singa memakan salah satu dari kita hanya karena kita pergi ke dalam hutan secara terpisah. Mulai sekarang kita semua akan bersama-sama".
Mulai sejak itu, semua sapi pergi ke hutan dengan berkelompok. Ketika mereka mendengar atau melihat singa, mereka semua berkata "moo" dan mengusirnya.
MORAL: BERSAMA, MASALAH AKAN TERPECAHKAN.
Keywords: story telling, english, inggris, tugas bahasa inggris, belajar inggris, dongeng, cerita, cerpen, teks inggris, kelas xii, kelas xi, kelas x, kelas ix, kelas viii, kelas vii, kelas vi, kelas v, kelas 12, sma, smp, sd, kelas 11, kelas 10, kelas 9, kelas 8, kelas 7, kelas 6, kelas 5, contoh teks inggris, contoh teks lomba, lomba bercerita inggris, cerita bermoral, cerita moral inggris, fabel, binatang, hewan, cerita happy ending, cerita tentang si jahat dan si baik, cerita singkat bahasa inggris untuk story telling, story telling pendek banget, contoh story telling singkat dan mudah dihafal, story telling pendek dan mudah dihafal, contoh story telling singkat, contoh story telling pendek, contoh story telling inggris